Join us for the Ken Davis & Sons Farrier Clinic
Friday, March 16
7:30 a.m. to 5:00 p.m.
Shop early and take advantange of our storewide discounts. Refreshments
will be served.
1:00 p.m. to 4:00 p.m.
Roy Bloom, CJF APF-I will present
"Forging and Tool Maintenance"
Saturday, March 17
8:00 a.m. to 8:30 a.m.
Coffee and donuts
9:00 a.m. to Noon
Conrad Trow, CJF DipWCF
will present
"Shoeing to Stay Ahead"
Noon to 1:00 p.m.
BBQ Pork Lunch
1:00 p.m. to 4:00 p.m.
"Shoeing to Stay Ahead" continued
with Conrad Trow, CJF DipWCF
AAPF Members who attend this clinic will earn 5 CE Credits.
For more information call 740-943-2335.
About the Clinicians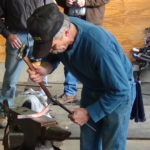 Roy Bloom, CJF APF-I
Roy Bloom CJF APF has been shoeing horses since 1973. He has been a member of the American Farrier's Team on two different occasions and for many years served as the manager of the team.
Roy has always been willing to share the extensive knowledge he's gained over the years with members of the farrier industry. In addition to his farrier background, he developed a strong interest in blacksmithing and tool making and for many years has been manufacturing a broad range of farrier and blacksmith tools. He also has a fully equipped shop and the ability to do a wide variety of ornamental and artistic work.
Roy's work as a clinician has earned him the Educator of the Year Award from the AFA and a position in the Horseshoer's Hall of Fame.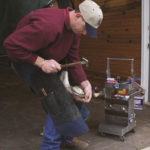 Conrad Trow, CJF DipWCF
A native of Durban, South Africa, Conrad attended Kentucky Horseshoeing School in 1996 and returned home to Durban to start his farrier practice. After some years at home, Conrad returned to the KHS in 1999 to apprentice under Mitch Taylor. Conrad has since established himself among the best of the best in horseshoeing in the United States. Along with his successful private farrier business, Conrad has been a member of the American Farriers Association National Horseshoeing Team, where he has won gold both nationally and internationally in horseshoeing competitions. Conrad was also a member of the 2007 American Farriers Association 4-man World Draft Horse Team which won at the Calgary Stampede in Canada. In addition, he was part of the 2-Man Draft Horse Championship team which won at the AFA Convention in 2003, 2004, 2005 and 2006. He also holds a diploma with The Worshipful Company of Farriers.