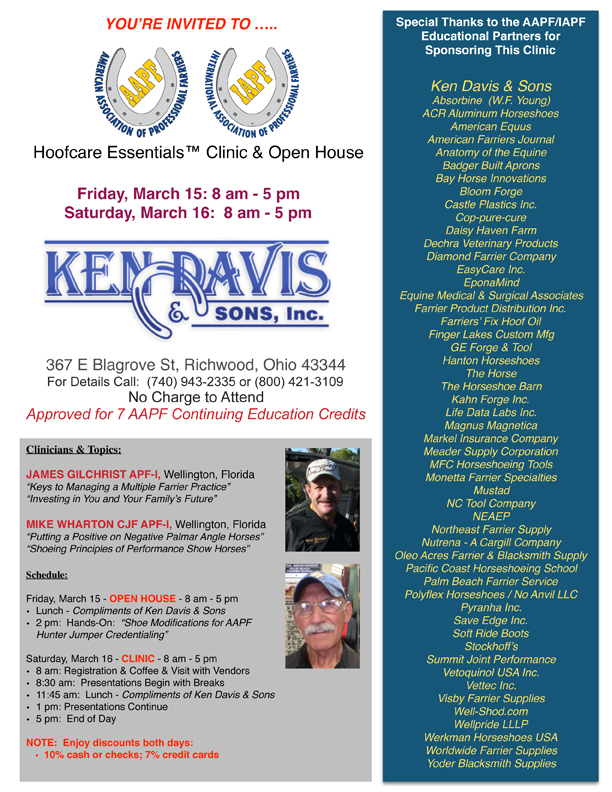 You are invited to join us
Friday, March 15: 8 am – 5 pm
Saturday, March 16: 8 am – 5 pm
For details about this free event and to reserve your spot, call (740) 943-2335.
Clinicians & Topics:
JAMES GILCHRIST APF-I, Wellington, Florida
"Keys to Managing a Multiple Farrier Practice"
"Investing in You and Your Family's Future"
MIKE WHARTON CJF APF-I, Wellington, Florida
"Putting a Positive on Negative Palmar Angle Horses"
"Shoeing Principles of Performance Show Horses"
Schedule:
Friday, March 15 – OPEN HOUSE – 8 am – 5 pm
Lunch – Compliments of Ken Davis & Sons
2 pm: Hands-On: "Shoe Modifications for AAPF Hunter Jumper Credentialing"
Saturday, March 16 – CLINIC – 8 am – 5 pm
8 am: Registration & Coffee & Visit with Vendors
8:30 am: Presentations Begin with Breaks
11:45 am: Lunch – Compliments of Ken Davis & Sons
1 pm: Presentations Continue
5 pm: End of Day
Enjoy discounts both days!
10% cash or checks; 7% credit cards
---
SPECIAL OPPORTUNITY FOR 2019 KEN DAVIS & SONS OPEN HOUSE AND CLINIC
James Gilchrist APF-I and Mike Wharton CJF APF, both of Wellington, Florida, are planning to provide hands-on instruction for any AAPF/IAPF members (and others) who are interested in learning more about the shoe modifications required for the "Practical" portion of the new AAPF/IAPF Hunter Jumper Credential.
No charge to attend.
Bring your tools and shoes and James and Mike will work with you on any of the modifications required for this Credential.
Date:  Friday, March 15, 2019
 
Time:  12 Noon – 4 pm
 
Location:  Ken Davis & Sons, 367 East Blagrave St., Richwood, Ohio
Questions?  Call Bryan Quinsey at 859-533-1465 or email bryan@professionalfarriers.com